Mr. Leon Menezes
Director - Career Development Centre
E-mail : lmenezes@iba.edu.pk
Phone: 38104700 Ext. 2670
Leon is a senior HR professional and one of Pakistan's most prominent speakers and writers on HR, Leadership and Personal Empowerment. He is Professor-of-Practice in the Department of Management where he teaches Management and HR-related subjects.
Leon is a graduate from the University of Hull, UK, and has over 40 years of work experience in Human Resources, Sales & Marketing, Operations and Customer Services in a variety of industries. He also served on the Board of Shell Pakistan Limited. In the later part of his career he was involved with mega change projects and also facilitated Coaching and Organizational Effectiveness courses in Oman and Malaysia.
He is a certified Director and facilitator for Corporate Governance, Leadership and Coaching.
Apart from work, Leon is well-known for his articles in The Friday Times, DAWN and other publications, as well as his radio and TV programs. His personal interests are yoga philosophy and golf. He is also an accomplished musician and stage actor.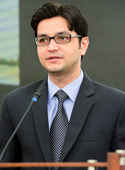 Mr. Danish Imtiaz
Manager - Career Development Centre
E-mail : dimtiaz@iba.edu.pk
Phone: 38104701 Ext. 1179
Danish is an ambitious, enthusiastic, generous, and determined person who likes innovation, developing new programs, processes, and systems. He also possesses an exceptional influential nature with strong networking skills. He has counseled thousands of individuals and assisted them in their personal, career and professional development as a Counselor, Professional Coach and Career Facilitator. He has conducted various training programs on career development & life skills, and has also facilitated several educational and skill based programs. Training, coaching, and dealing in people is both his passion and rigor. He loves developing people as he believes "people can do miracles" if they have a strong 'will'.
At present, Danish is leading IBA's Career Development Center (CDC). Previously, he was engaged with Habib University where he was primarily involved in conceptualizing and implementing various activities at the Office of Student Recruitment, Admissions and Enrollment Management.
In the past, he had a long association with the Aga Khan Education Service, Pakistan. He had excelled to different career ladders and created his own space there. Lately, he was working there as a Program Officer, Careers & Scholarships and was looking after all the career initiatives, processes and reporting of national & International Scholarship Programs.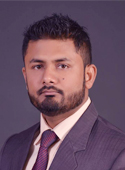 Mr. Shiraz Ahmed
Senior Executive
E-mail : shirazahmed@iba.edu.pk
Phone: 38104701 Ext. 1176
With his extensive experience in IBA, Shiraz is excelling by leaps and bounds and sustaining the corporate relations for Career Development Center (CDC) outstandingly. Despite being experienced, Shiraz is known for his generous and down-to-earth personality.
He has been associated with the CDC department since March 2004, ultimately gaining experience in talent marketing, human resources practices, sourcing, interviews, recruitment drive, assessment center, compiling graduate directories and facilitating recruitment cycle of IBA students and graduates in various MNC's and local organizations. Being CDC's oldest gun, he is well-known across all industries.
He is always striving to bring cent percent to the work that he does with an overall aim to build strong, long-term, mutually beneficial relationship with students, employees and other stakeholders.
Mr. Syed Arsalan Ashraf
Executive – Corporate Relations-CDC
saashraf@iba.edu.pk
Phone: 384104701 Ext: 2634
Arsalan is a go-getter who's never shy of setting his goals high. With strong corporate linkages and years of observing the needs of IBA students, Arsalan is determined to facilitate CDC and its efforts to better deliver on the students' expectations, if not exceed them.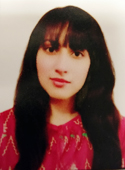 Ms. Javeria Fatima Qureshi
Executive – Marketing & Communications-CDC
jfatima@iba.edu.pk
Phone: 384104701 Ext: 1183
Javeria is a promising marketing enthusiast, who with her academic expertise and exposure to the realms of conventional and digital marketing, aims to ace the branding game of the IBA CDC and strategically improve the digital presence of the department.
With a thorough experience of digital branding and marketing, Javeria is passionate about creating strategies that can help organizations achieve their branding goals. As a business graduate with marketing majors and multiple industrial experience, she has sound knowledge about business academics and the corporate sector. She possesses great creative aesthetics and visual-designing talent, which has helped her to contribute in the digital world tremendously.
She believes in consistency and continuous learning to pursue career/ personal goals in this evolving era of technology. She is a fitness influencer and enjoys swimming, yoga and aerobics.